FrSky XJT modul
XJT
New product
FrSky's newest JR style Telemetry Transmitter X-Module.
0 Item Items
This product is no longer in stock
Warning: Last items in stock!
Availability date: 2016-12-02
The XJT telemetry transmitter module is a great choice if your transmitter is compatible with the JR style modules.
The latest upgrade to the FrSky Telemetry Radio System now features up to 16 channels and the new Smart Port for duplex communications with X series receivers. (Only certain transmitters are capable of sending 16 channels to the XJT.)
The module is compatible with both the V8, D, LR and X Series receivers from FrSky.
Add the XJT to the back of your FrSky Taranis transmitter for 32 channel in total!

Features:
Advanced Continuous Channel Shifting Technology (ACCST SYSTEM) achieves highly reliable link in interference rich environments.
Smart Port - Full Duplex communication
Easy to bind and instant link-up
Excellent reboot times
All channels failsafe
Quick response
Very smooth servo movement
Alarm on events of receiver (low battery voltages, poor reception, etc.)
Error-free link, by using 48bits CRC algorithm
Firmware upgradable


Compatibility:
V8 Series: (Non-Telemetry receivers) 
V8FR-II, V8R7-II, V8R4-II, VD5M
D Series: (Telemetry receivers) 
D8R, D8R-II, D8R-II Plus, D8RSP, D8R-XP, D6FR, D4FR, D4R-II, etc.
X Series: (Telemetry receivers) 
X8R, X6R, X4R, etc.
LR Series: (Long Range receivers) 
L9R
Compatible with the following transmitters:
JR: 347, 388, 783, U8, PCM10, PCM10S, PCM10SX, PCM10IIS, 8103, J9303, MX-22, MX-24S, PX, 9XII, Eurgle 9X, Turnigy 9X, 9XR and more.
(Note: SPort telemetry is not currently available to any of these transmitters. A FrSky Co-Pilot will be required to see SPort data.)
Specifications:
Operating Voltage Range: 6.0V-15.0V
Operating Current: 140mA (@6V), 80mA (@12V)
Output Power: ≤ 100mW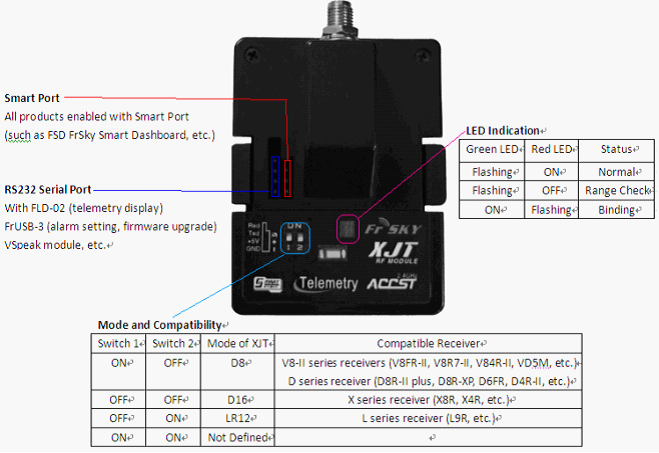 Your Store Copyright Here
Original manual in PDF
Original manual in PDF